Allows Customers To Check Product/Order Delivery Status (Yes/No) For Any Location
Displays product / order delivery enquiry form on product, shop, cart & checkout page.
Admin Can Easily Define Their Store's Delivery Areas Easily From Backend With Full Flexibility.
Buy Now - Instant Download
Exclusively available on codecanyon.net
Let Your Customers Know Your Store's Delivery Areas Like Big Brands
The homepage of your store can have this beautiful form – empowering customers to know your store's delivery areas even before they place order.
Order from your Nearest Store!
For Testing Purpose – Please enter location of NewYork, Boston, Houston, Las Vegas, San Fransisco
Admins Can Display Delivery Areas Beautifully On Google Map!
Six Flexible & Easy Methods to Define Delivery Area for Site Admins
By Directly Specifying Zip Codes
By Drawing Delivery Areas on Google Map
By Specifying Kilometer Range From Store Location
By Specifying Country
By Specifying Sub Continent
By Specifying Continent.
Important Note : This plugin displays Delivery Enquiry Form on product,shop, cart & checkout page automatically.
For displaying Delivery Enquiry Form on home page/ any other place like we demonstrated in above image, you can use shortcode.
Create Collections for associating products with their delivery area.
Select all / some products, provide comma seperated zipcodes where you can deliver or draw your delivery areas directly on google map easily.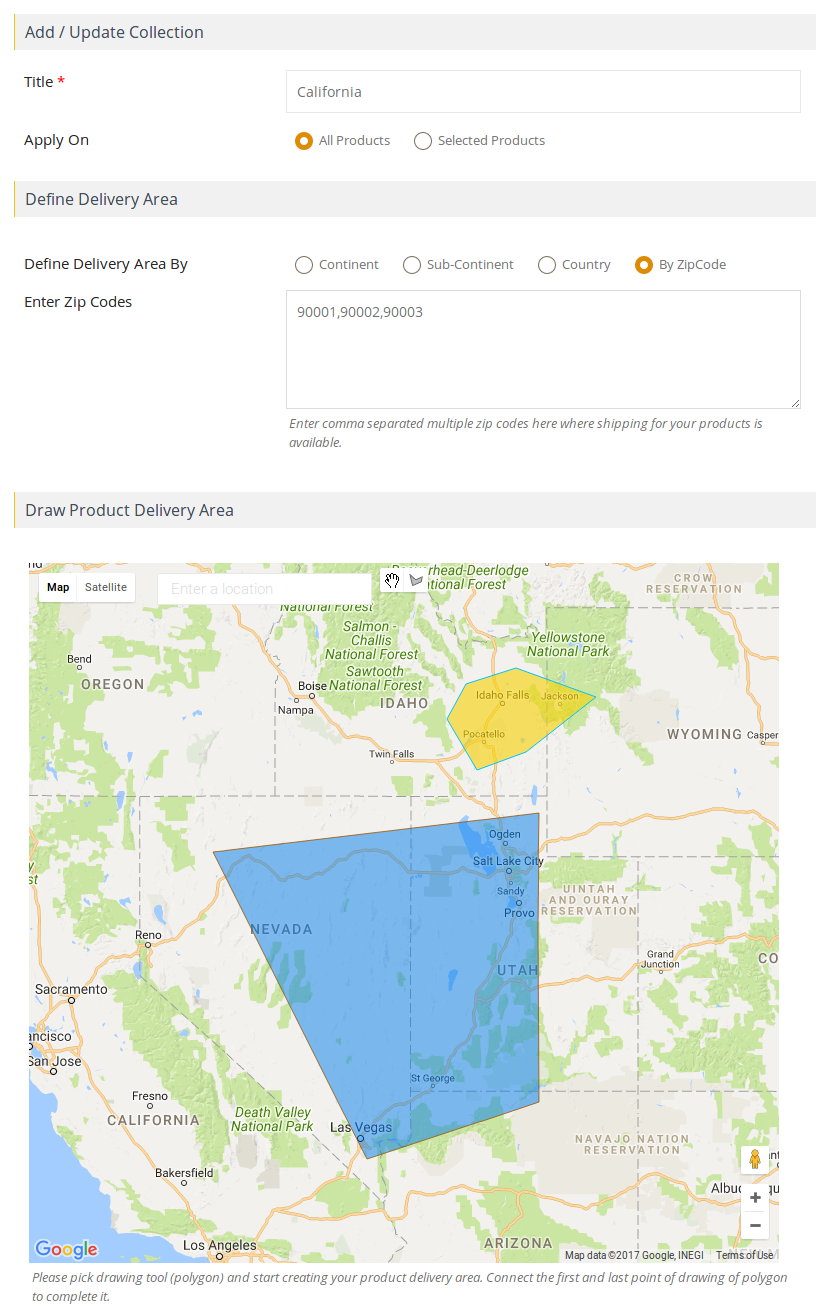 Assign some or all products to a single collection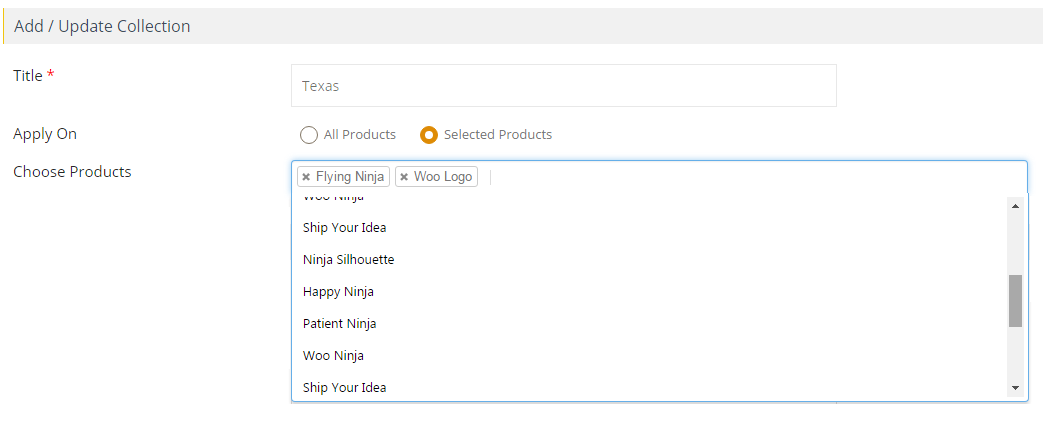 Specify A Whole Continent As Product Delivery Area
Define continent as a delivery area where your product is ready to shipped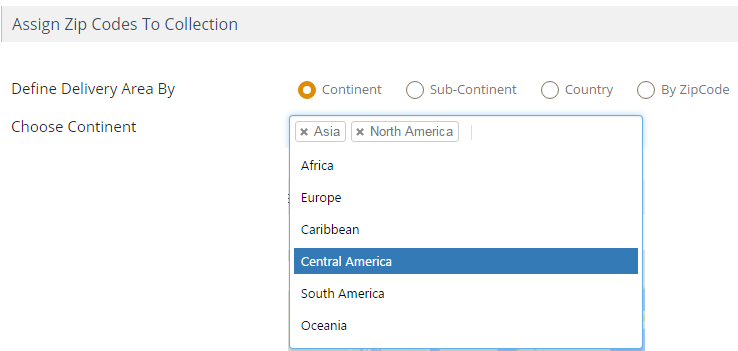 Specify A Sub Continent As Product Delivery Area
You can choose sub continent as a Product Delivery Area.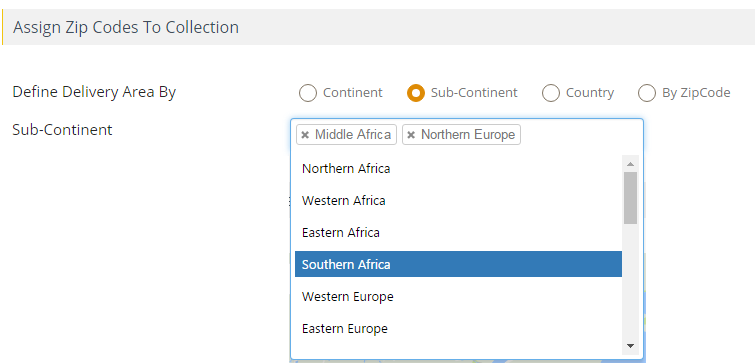 Specify A Country As Product Delivery Area
This plugin allows you define a single country as a Product Delivery Area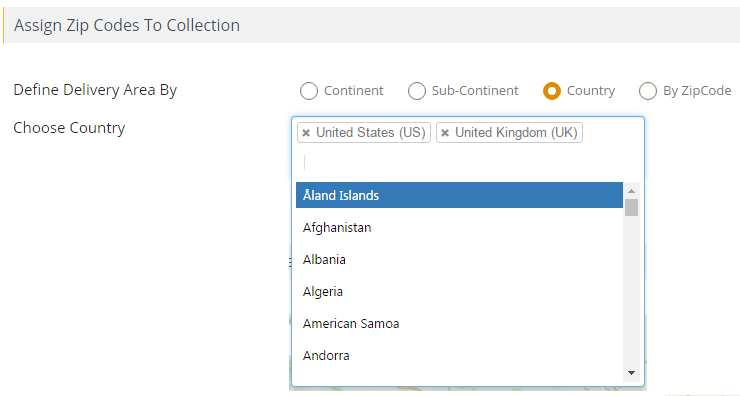 Specify product delivery area directly with zip codes
This is the most widely used method for defining delivery areas. Admin can easily enter comma sepererated zipcodes of their delivery areas.
For zipcodes having same starting code, admin can use special character * with zipcode to save time. For eg for covering Alaska (AK) state – 995*

Draw Delivery Area Directly on Google Map
Admin can draw delivery areas directly on a Google Maps from backend.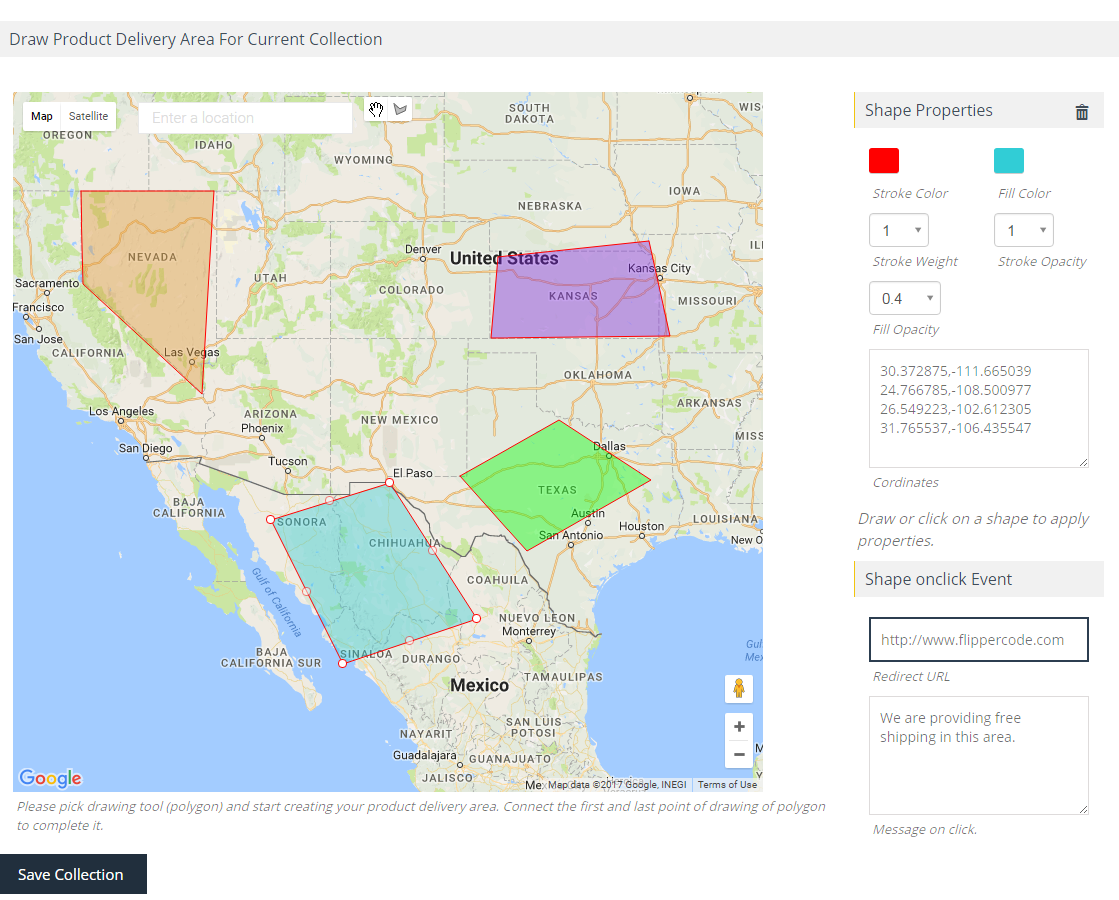 Define Delivery Area By Kilometer Range From Store Address
Site Visitors Can Enquire PRODUCT DELIVERY FROM Shop Page !
SITE VISITORS CAN ENQUIRE PRODUCT DELIVERY FROM PRODUCT PAGE !
SITE VISITORS CAN ENQUIRE PRODUCT DELIVERY FROM CART PAGE !
Visitor / Customer can easily see individual product delivery status for every product currently added in cart on the cart page.
Display Product Availability Map on Product Page
Visitors can see all delivery areas of current product in a new tab on product page.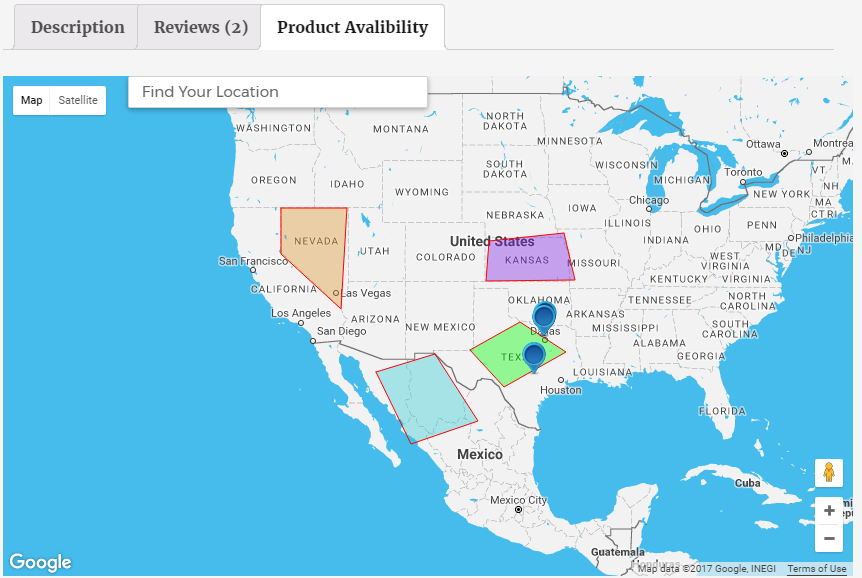 Enables order restriction based on delivery areas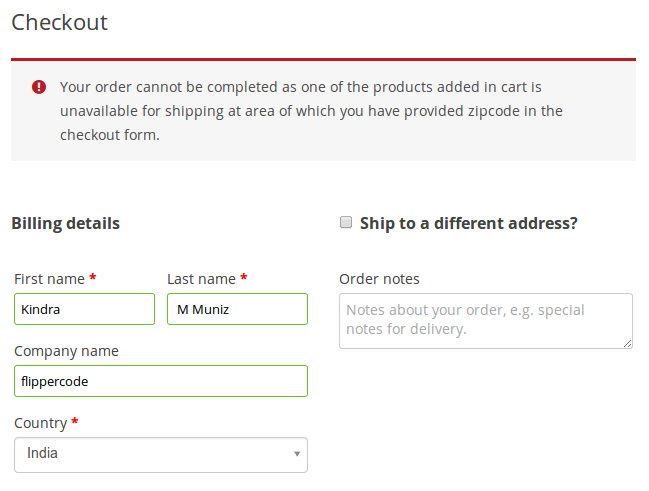 You can restrict customers / guest visitors to place an order if the zipcode provided in the default checkout form is not present in your store's delivery areas.
You can put restriction on order placing if you want.
Hide Delivery Enquiry Form For Some Particular Products Easily.
You can hide delivery enquiry form for some particular products easily from product edit screen.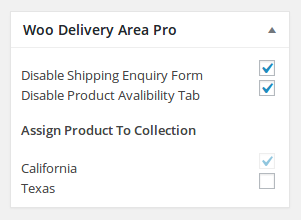 Choose & Display Beautiful & Responsive Delivery Enquiry Form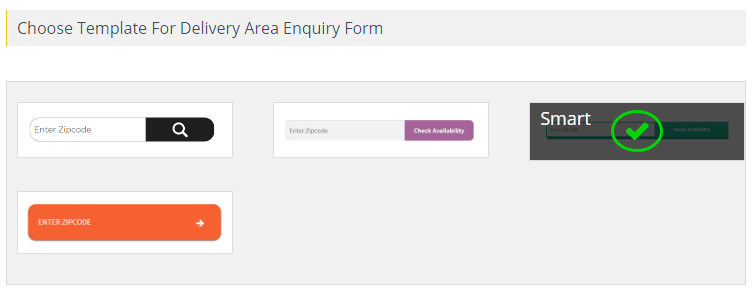 Customizable, Responsive & Beautiful Templates For Delivery Enquiry Forms
With help of shortcode you can place delivery enquiry form anywhere on your site and customize it according to your business requirements.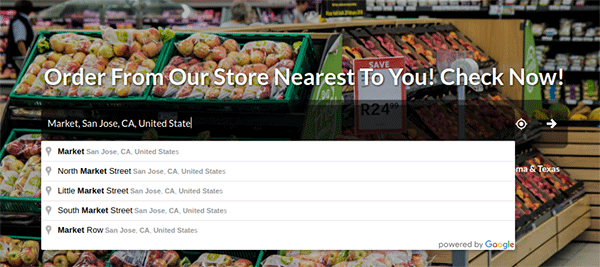 Display your all Delivery Areas on a Google Maps Via Shortcode
Insert the shortcode [delivery_areas] to display all delivery areas on google maps.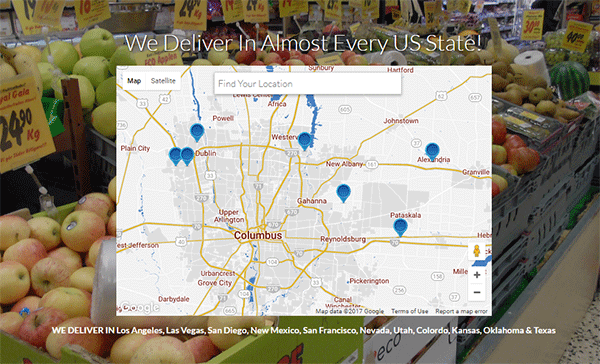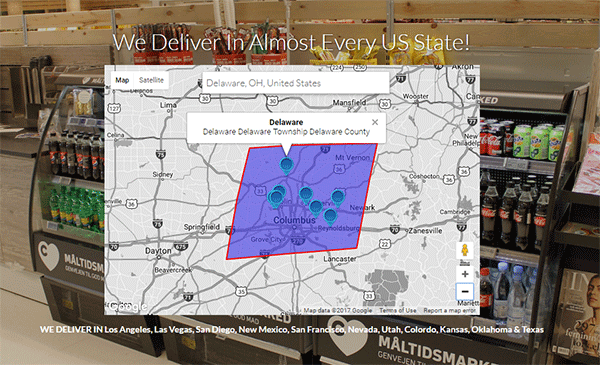 Apply Beautiful Snazzy Maps Styles on your Google Maps From Backend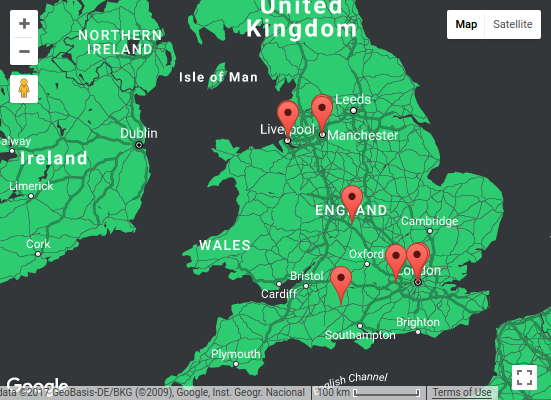 Our Customers Are Loving Our Product, Customizations & Support 🙂
Get your copy now and let your woocommerce shop be more responsive and user friendly with your store customers. Let us know if you need any level of customizations with plugin.
Drop an email to hello@flippercode.com to discuss any of your business requirements or customization idea. We'll be glad to hear from you.
How to Get Started?
This plugin is super easy to use and setup.
Step 2: Create Collection and Assign Products to the Collection.

Step 3: Select woocommerce pages to display product delivery enquiry form.

Step 4: That's it You're done.
Pre-Sales Information
You get 6 month support included with this plugin and life time updates.
Single Site

Lifetime Updates

Support

Videos

Tutorials

Changelog