Easiest Booking Popup Plugin for WordPress
Visitors will complete their booking process using a beautiful & responsive popup in just 3 simple steps.
Buy Now - Instant Download
Exclusively available on codecanyon.net
Most User Friendly & Flexible Booking Plugin For WP !
Let your customers / visitors to book an appointment with ease.
Just ask the required information from visitor in simple steps. That's what we aimed for, while developing this booking plugin.
Visitors can easily create booking in just 3 clicks via booking popup !
Site admin can easily define timeslots from backend, when he/she wants to allow visitors to create new bookings.
Efficiently manage all created bookings in custom post types. Admin can confirm and cancel bookings easily with email notification.
Step – 1 Select A Booking Date & TimeSlot
Step 2 – Provide Your Booking Details & Purpose
Step 3 – Confirm Your Booking
Manage All Content Of 3 Step Booking Popup From Backend Easily !
Admin can easily all content present in popup from backend along with success, error message and their color too.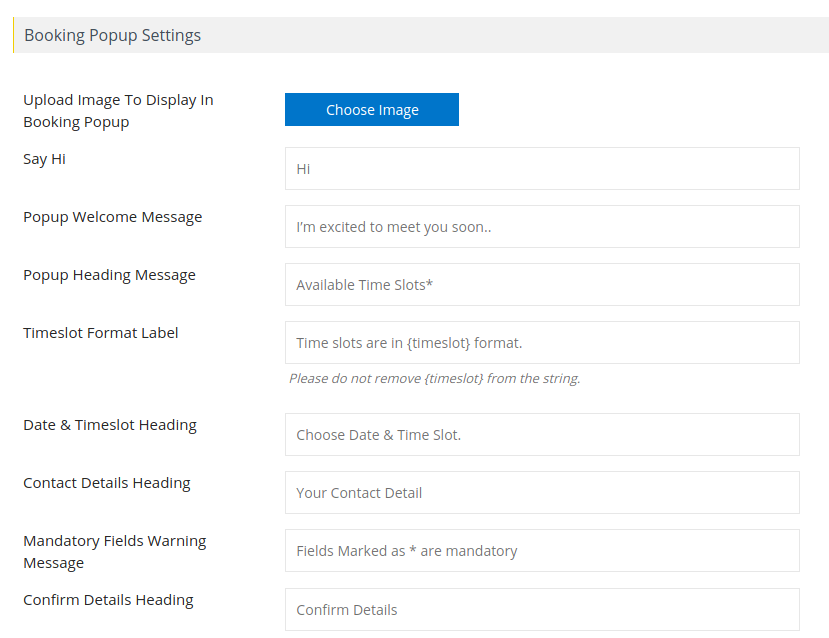 Create dynamic timeslots from which user will select one for booking
Time slots can be created with booking start and end time. Admin can specify different timeslot for any particular weekday.
Admin can also specify holidays and weekends. On these days visitors will not be able to create a booking.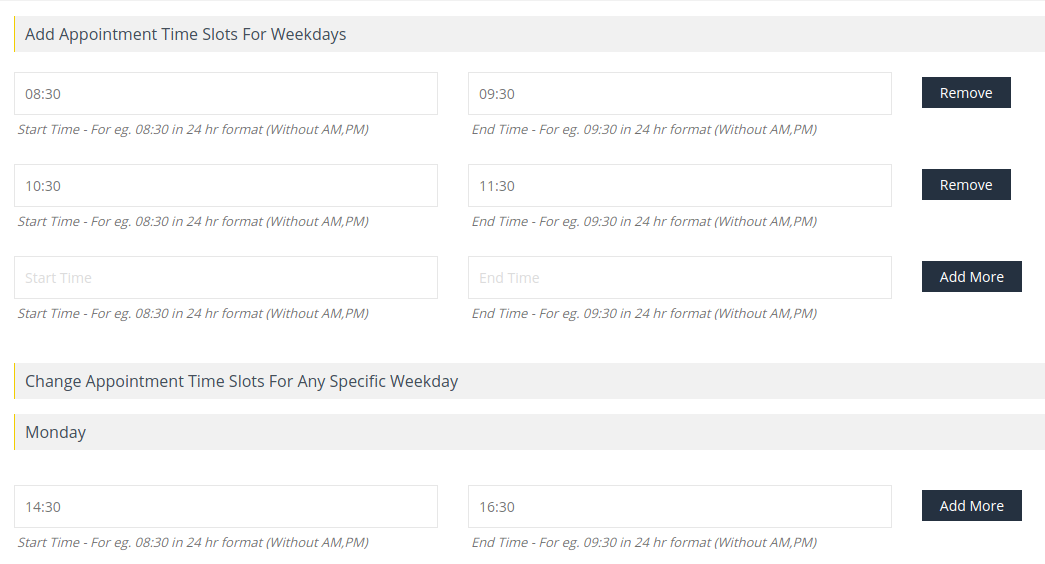 Emails At Time Of Booking Creation, Confirm & Cancel Event – All Manageable
Notification emails are generated for both visitor and site admin whenever an any activity takes place.
Every email has manageable content with a common & manageable HTML email template.
Easily Manage User Bookings In Backend
All user bookings can be easily managed through backend. Admin will see all booking details filled by booking form in backend.
After getting new booking admin can confirm / cancel received booking. On this activity concerned email will be delivered to user.
Admin can filter bookings by user name, email address, booking status or even by booking date.
Easy PopUp Integration
You can easily integrate booking popup in any wordpress theme by any of below three methods.
With help of shortcode.

[schedule_booking]

On any custom anchor tag link with help of data-toggle and href attribute.

<a data-toggle="modal" href="#booking1">Book Now!</a>

Add a booking popup link in main wordpress navigation menu by adding a custom link in menu and providing an extra class – "fc-wp-booking-popup" to it.
How to Get Started?
Step 1:

Install and activate

WP Booking Popup

plugin

Step 2: Create dynamic timeslots according to your business requirements. Update popup content if required and save settings.

Step 3: Put the popup shortcode in frontend page or add it as a navigation menu via a custom menu link.
Pre-Sales Information
You get 6 month support included with this plugin and life time updates.
Single Site

Lifetime Updates

Support

Videos

Tutorials

Changelog